2022
2022 APS PAST STUDENTS' GOLF DAY
Dress Code: Click here
DATE
: Friday 6th May 2022 (7:00am for an 8:00 am tee-off)
LOCATION
: Victoria Golf Club (Park Rd, Cheltenham, VIC, 3192)
COST
: $160 ($140 for 30 Years and Under)
FORMAT: like last years event, all groups will be teeing off in the morning with lunch, awards and trophy presentation to follow. Entry fee is $160 ($140 for those aged 30 or younger) and includes entry into the event, a light breakfast, green fees and a lunch with guest speaker (TBC).
7:00am: Breakfast and Registration
8:00am: Shotgun Start
12:30pm-2:30pm: Lunch with Guest Speaker (TBA)
LUNCH ONLY OPTION AVAILABLE ($75) – PLEASE EMAIL SAM AS PER BELOW:
Contact: Sam Cole (APS Golf Day Committee Vice-President)
Email: scole@copiapartners.com.au
Phone: 0418 524 913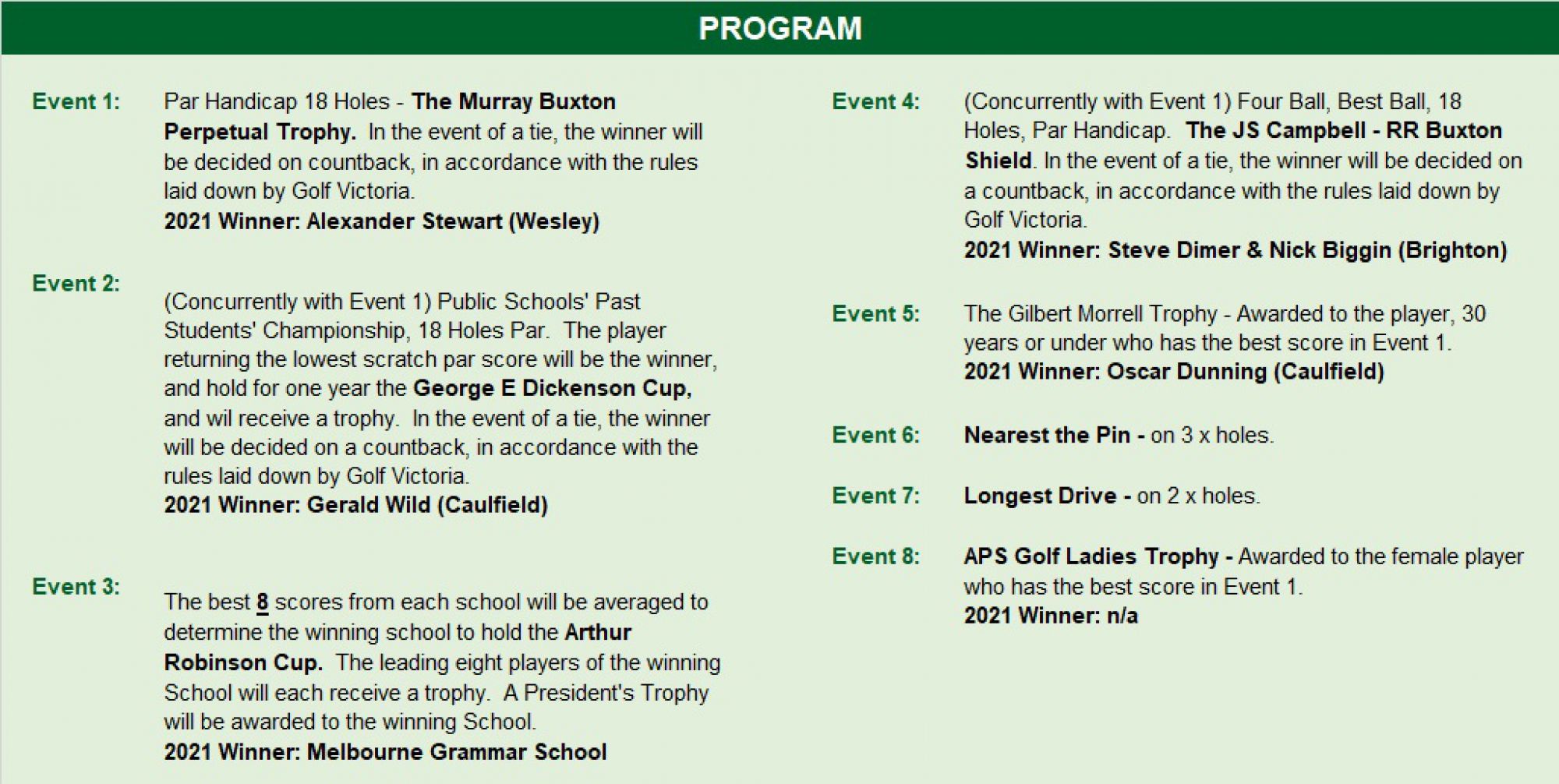 COMPETITION CONDITIONS AND INFORMATION
The draw will be made in fours and forwarded to all players via email as well as being posted on the APS Golf Website prior to the event - apsgolf.org.au. Rules and details of the event are also available on the website.
The event is open to past students, teachers and other members of the Past Student Association of each of the 11 Associated Public Schools of Victoria, who have a current Official Australian Handicap or WGA Handicap.
Members who do not list their Golf Link number in their entry form can play, however, their score will not be included in any event and they will not be eligible for any prizes.
The tournament is limited to 132 entries, which are accepted as follows:

12 players per school (in order of receipt)
Note: No entry will be accepted without the total entry fee to cover all players listed on Entry Form. Single or multiple entries will be accepted and incomplete fours will be completed by the Organising Committee.
Thank you to the following sponsors,